Beginning Your Kitchen Remodel
The Heart of the Home is what the kitchen has been called. Which is why kitchen remodels is one of our most popular spaces in the home we remodel.
Maybe you want to create a gourmet kitchen for the house chef, remove some walls to open up some more space for cabinets, create a pantry area or do you simply just want to update the style of your kitchen. We have done hundreds of kitchens to match any level of your kitchen remodel and some of our kitchens have been featured in various remodel magazines and social media platforms. We can guide you through the planning phase, budget phase, design phase, contract phase and finally;
Build the kitchen of your dreams!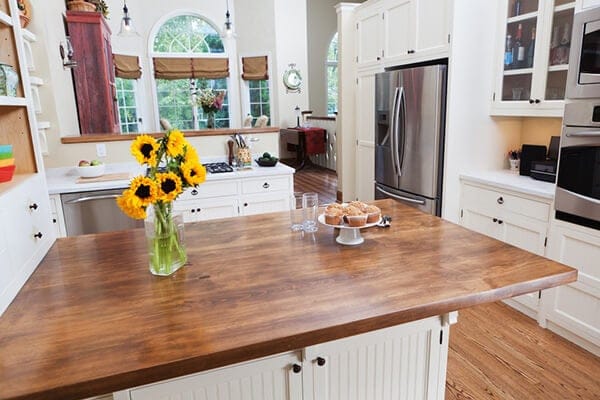 Initial meeting (planning phase and budget phase)
Approximately 60 to 70% of our Kitchen remodels use the same layout and update their Cabinets, countertops, plumbing fixtures, flooring and appliances. Our Guranteed 10 Day kitchen remodel may be the right fit in this circumstance. While the other 30 to 40% are custom kitchens with removal of walls, structural changes and possibly an addition. The initial meeting is where our team of professionals and the client decide what the next step in the process is. Many clients have praised our team at this phase as our #1 goal is to ensure we provide a realistic and budget conscious way to move forward with the kitchen of their dreams. This educational process is invaluable to any client and we are excited to share our over 25 years of remodeling experience and the combined 100 years of design and construction experience within our team. After the initial meeting the client will have clear and concise idea of what their kitchen remodel investment will be, timeline of the project and an understanding of what our capabilities are as a remodeling company and how organized and Professional our team of experts are.
Design phase
Not all kitchens require a custom design package prior to the contract phase. But every kitchen requires 3D renderings of every wall that will get remodeled. The sole purpose behind the 3-D renderings is that the client can get a clear visual of the remodel space, and everything that will be under construction will be outlined. Custom design packages include detailed floorplans, 3-D renderings, and sometimes architectural drawings that include documents that need to be provided to the city or county for permit approval. Our team accomplishes this by taking photos and measurements of your existing kitchen and draw the details of the rooms, including walls, flooring, cabinetry, countertops, windows, lighting, finishes, etc. Inspirational photos and notes that we have shared about together are also Incorporated. All these documents together are extremely helpful as it brings to life the idea that you and your family have imagined. The documents also confirm whether what you had in mind either works or does not work in reality. Whatever the case may be our team of professionals are there to handle any situation and assist you with ideas and suggestions so that your dream kitchen can come true.

Contract Phase
The contract phase is a handful of documents that include; scope of work document (contract) lists all of the trades and the projects specifications. Timeline that includes milestones that trigger the payment schedule. Insurances, bonds, licenses and warranty information. The change order process. Total cost of labor and materials. This contract phase is very important, and our team of professionals will ensure that every detail is answered and nothing is overlooked.
When you choose Trust Company's team of award-winning remodeling specialists, you get access to the latest design software to create a kitchen remodeling your entire household will love. We make it our #1 priority to work as closely as possible with you; it is your project, therefore we believe you should be in control and know what's going on at all times.
Material Budget (shopping list)
Your material budget is more like a shopping list. These are all the fun items that you get to pick out; such as appliances, tile, flooring, countertops, lighting etc. Your material budget shopping list allows us to price out these items and add them to the total cost of your material and labor for your project, giving you a total cost for your kitchen remodel. If the final number is not where you want it to be then we select items from the list and remove them or swap them out in order to control your overall budget.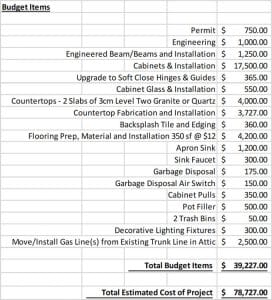 24/7 Access to Your Project
Trust Company's staff of professional general contractors has everything you need to design and create an inspired living area that is unique to your home. By using our online client access portal, you can access your project at any time to monitor its progress and make last-minute changes and upgrades as the project develops.
How To Plan Your Dream Kitchen
It's time to turn your dream kitchen into reality. Visit with one of our award winning designers and let your imagination run wild with the possibilities. View faucets, cabinets, and sinks of various shapes and styles. Visualize your kitchen project coming to life in the comfort of your own home. Need some help narrowing down your options? Check out our Guide below.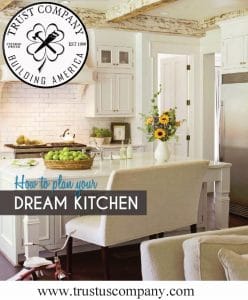 Trust Company Plan Your Dream Kitchen.pdf
Let's Get Started
Upgrade your kitchen and witness the transformation it can make in your life. Trust Company is ready to build the kitchen of your dreams. Fill out our contact form or call (951) 760-9968 to learn about the possibilities that await.